Layers of dark Belgian chocolate mousse, white chocolate mousse, dark truffle cake and ganache for P130.00 a slice.
I liked the white chocolate mousse and sometimes also the dark chocolate. But it does seem too bitter sometime. While the truffle cake was too dry.
Overall I find the cake too rich and bitter.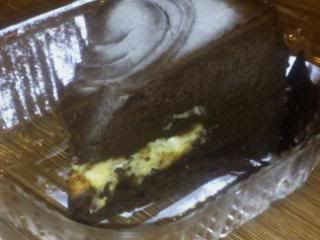 It is served frozen and therefore should be eaten an hour max after ordering (in case you have it to go like I did).
Happy Eating!

KOOKY AND LUSCIOUS
Ground Floor, Metrobankcard Building
6778 Ayala Avenue, Makati City
817-3577
Restaurant hours: Monday to Friday, 7:30am to 7:00pm