My mother and I had a sleepover at my sister's house, but before that we met-up with her at Landmark in Makati for dinner and some shopping.
I wanted to try the Fish Twister and Halo-Halo Krush of KFC, that I bugged them to eat at KFC.
I asked the cashier before lining up if they have Halo-Halo Krush because I saw no Krusher machine at the counter. She told me they don't offer Krushers at their Landmark branch. Hearing that I told my sister to line up at Greenwich and order Buco Pandan Cooler and Cheese Pizza Fries, while I line at KFC to order a Bucket Meal and Fish Twister.
I like KFC a lot, but that day, that branch almost has nothing to sell, but just hard/dry and thick-breaded chicken and rice, not all chicken parts were available too, the same thing goes with their drinks (Coke only) and sides ( just mashed potato).
I didn't get full with the their tiny and dry chicken that I ordered a 1-piece Chicken at Mc Donald's. Compared to KFC, it was fresh and big.
It was nice that we have the
Buco Pandan Cooler
of Greenwich to cool our heads and erase that bad experience.
The
Cheese Pizza Fries
of Greenwich were good too. They were like Potato Corner fries, just thicker, bigger and crispier versions. Loved the marinara dip.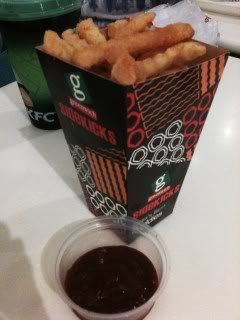 KFC's
Fish Twister
was just okay. Liked the taste, just had a problem with the fish filling, which was mostly breading.
BTW, just 3 days after that, I was able to buy KFC Halo-Halo Krush on another branch, which at first told me that they don't have it nor have anything except small parts chicken (again), rice and Sprite. When I told the cashier that I wanted to talk to their manager about it, she told me to wait for a bit and came back with a
Halo-Halo Krush
on her hand. Surprise! Surprise!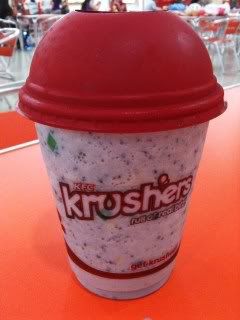 Well, the Halo-Halo doesn't even taste like it has ube (purple yam) in it. It did taste like their Cookies and Cream though.
On our way to my sister's house we stopped by Shell Select in Magallanes and bought some pig out snacks.
We bought a lot of PIC-A, Marty's Chicharon, Black Forest Bread, Favorita Cheese Pie and
Cielin's Walnut Pie
Everything except the walnut pie was good.
Happy Eating!