After the movie (Pirates of the Caribbean), since we (my family and I) weren't that hungry, we just had snacks at Starbucks near Bayview in Roxas Blvd.
We all ordered sandwiches, drinks and cakes.
I had the
Chicken Galantina Sandwich
,
Venti Green Tea Soy Frap
, a slice of
Chocolate Cake
and a
Dark Chocolate Macadamia Cookie
.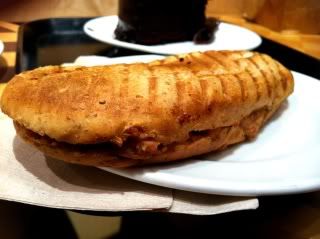 I like the galantina because it is filled with chicken meat, the entire stretch of the whole wheat bread, plus it has cheese. And of course I like the green tea soy frap and the chocolate cake.
The dark chocolate macadamia cookie was very sweet and doesn't have that much chocolate nor macadamia. The white chocolate version of it during the holidays was still better.
Happy Eating!