After eating a lot of sweets to tide over my hunger for a little while, just so I could shop some more, it was now time for a real meal and no shopping nor sweets can get in the way.
I was going back and forth Mr Jones and John and Yoko. Between the Rosemary Chicken of Mr Jones ( that I've already tried) and the Breaded Fish with Cheese of John and Yoko (which I haven't tried).
In the end, Mr Jones won.
I want something healthy (turkey/rosemary), indulgent (cheese), and sinful (fries), that I ordered one of my fave in Mr Jones. I can't eat burgers anymore, so I chose another fave that was not beef and that comes with fries, their
Rosemary Grilled Chicken and Turkey Melt
(P375.00)
- emmenthal and gruyere cheese, pesto, mixed greens, tomatoes, onions, and cranberry compote on toasted rye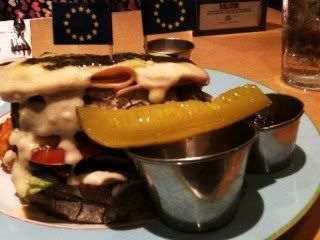 The bottom part has rosemary chicken while the top has turkey with melted cheese. Oh so indulgent. I so love the melted cheese on top that goes too well with the cranberry compote. Make that almost everything and anything goes well with the cranberry compote.
Happy Eating!
MR JONES
Greenbelt 5
Ayala Center
Makati City