After Swensen's we bought more sweet and icy drinks at one of my favorite bubble tea shops,
Chatime
.
My husband had the
Yogurt Lychee QQ
, which was part of their Lychee Series.
I tasted more of the lychee and none of the tangy yogurt on this drink.
While I had my favorite
Matcha Red Bean Smoothie
with extra pudding and pearl.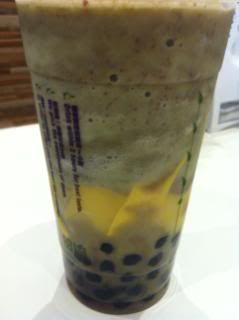 I like my order. It has a lot of ingredients and texture. From icy to smooth, to chewy, to crunchy.
Happy Eating!
CHATIME
Mall of Asia