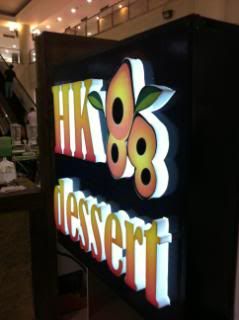 I saw them a couple of times already and made a mental note of trying some one at a time.
That afternoon, after an hour or so of shopping, I was in need of a snack.
I looked around their menu board full of photos of their food, and was torn between Mixed Fruits with Italian Jelly ( their best seller together with Glutinous Rice) and Mango Pancake. I also wanted Durian Pancake as I still have Singaporean food hangover, but I didn't go the adventurous route that afternoon and went for
Mango Pancake
instead.
I like the cream, and I can ignore the overripe but still good mangoes. The pancakes were thicker than what I would have wanted, but overall they can be a nice snack/dessert.
Happy Eating!
HK 88 DESSERT
Ground Level, Padre Faura Wing,
Robinsons Place Manila