Bought the following sweets at
Marriott Hotel's Bakeshop
: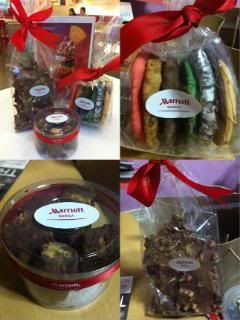 *Brownies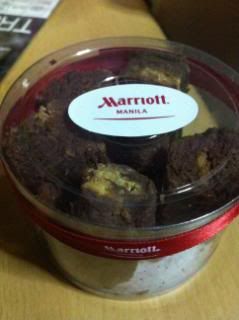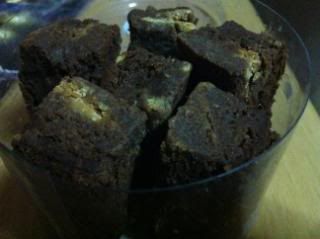 I were told that its their bestseller and that it doesn't have nuts. What it has are caramel swirled in with the brownies.
I didn't like it as all I can taste was sweetness or all caramel and none of the chocolate.
*Assorted Cookies
- strawberry, oatmeal, walnut, pistachio, crinkles (most ordered cookie in their shop) and butter eclair (not sure with the name)
Strawberry
- with white chocolate chunks
- it almost tasted bland when eaten right after the crinkles. But I like it as it wasn't that sweet, and that it was moist, soft and chewy, like it has coconuts in it.
Oatmeal
- just like any oatmeal cookie
- moist and not that sweet
Walnut
- the big walnut in the middle tasted stale and ruined the whole chocolate cookie experience.
Pistachio
- also not that sweet, moist and tasted like it has coconuts. Didn't taste like pistachio but had quite a number of pistachio nuts scattered in the cookie.
Crinkles
- crispy and very sweet.
Butter eclair
- the butter cookie alone was bland, the chocolate coating alone was slightly bland too, but together they were okay.
*Rocky Road Bark
- milk chocolate, nuts and marshmallows
- I didn't think I would like it but I did, a lot. I was sad I just bought one pack and not more. It wasn't that sweet and it had almost everything that I like. A great pre-bed snack with tea. But better if it's dark chocolate and not milk chocolate. Tasted like Cadbury's chocolates too.
There were a lot more to try. Like their assorted truffles, dark chocolate, dark chocolate with nutella, white chocolate bark, strawberry white chocolate bark and huge heart-shaped cookies that can be shared by 8 people.
Happy Eating!