I was in line at Chatime for a Matcha Red Bean Smoothie, when I was told that they won't serve any smoothie that evening. I wasn't in the mood for a milk tea as I was craving for a slush/smoothie, that I tried my luck at
Gong Cha
instead.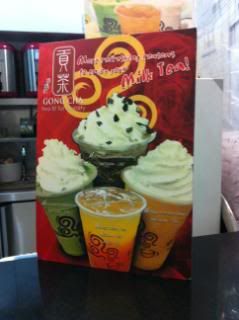 I was looking at their menu board of the smoothies they offered namely Ice Milk, Chocolate and Coffee. I don't want any of the three and was on my way out when I saw their turned down standee of Matcha and Taro Smoothie. I asked if they were available, and when they said yes, I ordered one
Matcha Smoothie
with extra pearl and 50% sugar.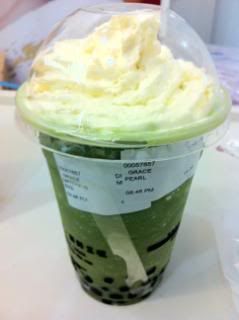 It was different compared with Chatime's Matcha Red Bean, as it has a different green tea/matcha taste. Something that I haven't tasted in my years of drinking and trying out different green tea. I don't know what kind of green tea they used. The taste was just new to me. Anyways, I like it, but not as much as Chatime's Matcha Red Bean Smoothie.
Happy Eating!
GONG CHA
Mall of Asia