Using the GC I won at ToT's Goodie Giveaway, my husband and I dined at Arya in Robinsons Place Ermita.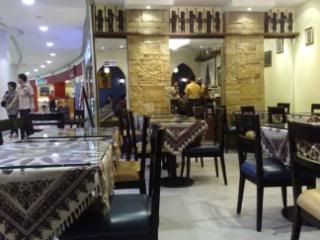 We ordered what ToT recommended in her site,
Beef Koobideh
(skewers of ground beef seasoned with spices and onions) for my husband and
Mourgh koobideh
(skewers of ground chicken seasoned with spices and onions )for me. Since we wanted it to be lighter, we had it with pita bread instead of basmati or jasmine rice.
BEEF KOOBIDEH P355.00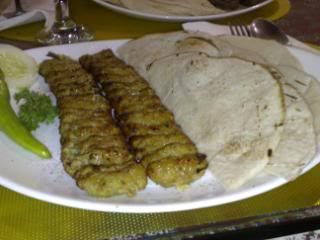 MOURGH KOOBIDEH P355.00
We also asked the server to prepare the tomato salad for us.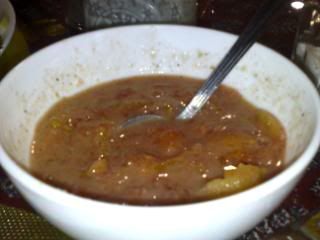 - peeled the grilled tomatoes, topped it with garlic yogurt and chili sauce then mashed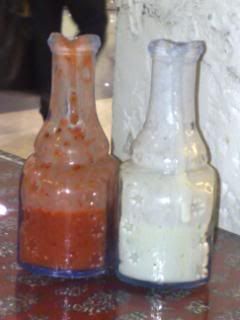 You might mistaken the mourgh koobideh with its yellowish color for something with curry or curry flavored, but it didn't have that taste. What it tasted though was indescribable but great, nonetheless. My husband told me that his beef koobideh too was delicious. He also said that this was a rare dining experience where he doesn't have any complaints, with the food nor the service.
Here's how we ate the koobideh:
- we opened the pita pockets, stuffed the koobideh inside, filled it with tomato salad and added huge amounts of garlic yogurt and chili sauce. YUM!!!
For dessert I chose Lucy Torres' favorite, the
Fig Orange Cake (P175.00)
.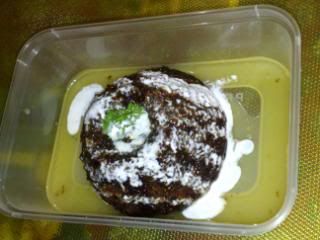 I was hesitant to order it at first but when my husband told me of a dessert he had in Miami of a fig cinnamon pudding with grated orange zest and vanilla ice cream, it made me curious of Arya's version of the Fig Orange Cake.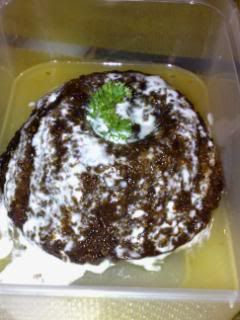 When it was served I had the first bite (of course). It was sooo good warm. It was indeed like a bread pudding but was nutty and sweet and just utterly divine.
Happy Eating!
ARYA
2nd Floor, Robinsons Place Ermita
Manila