They were still on their dry-run when I happened to pass-by their stall at the Food Choices in Glorietta. I was supposed to have Plato Wrap's Chicken for a light dinner when I saw
Go Greek
. And for just a couple more peso I can get their Chicken Gyro/Shawarma instead.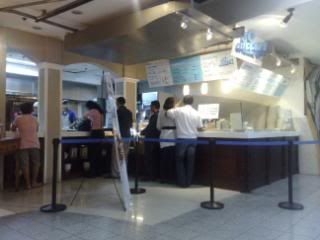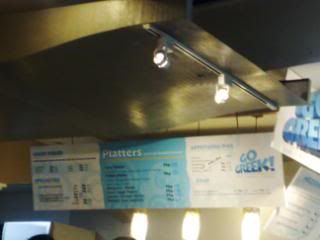 Since I know that I wasn't that hungry that night, I didn't order their
Chicken Gyro Platter -P195.00
(with Greek rice or potatoes, side salad and pita bread) and just chose
Chicken Gyro/Shawarma for P95.00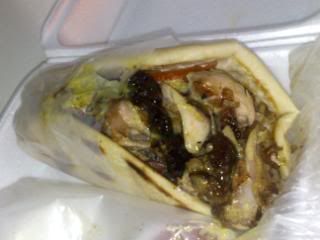 Their gyro was sure-filled with roasted chicken. It was even overflowing with it. I was watching the cook fill my pita bread with the roasted chicken and I know that he put a lot of it in there.
Since chicken tend to be bland, some parts of the gyro were bland but made a WHOLE LOT BETTER by the yogurt garlic and chili sauces.
Their chili sauce wasn't as spicy as Cafe Mediterranean. In Go Greek an even amount of yogurt and chili sauce were still tolerable.
The Chicken Gyro can sure tide over your craving for something Greek and for P95, that sure was a very filling snack or medium-sized dinner(for me).
Happy Eating!
GO GREEK
Food Choices, Glorietta