I wanted to eat the Roti Canai with Curry Sauce and an order of their Chicken Satay, while my husband wanted the
Tilapia with Assam Sambal Sauce (P238.00)
and the
Stir Fried Mixed Vegetables with Salted Fish Thai Style (P138.00)
Since I know that we can't finish them all, I didn't order what I wanted and just ordered what my husband wanted.
The Tilapia although good, filleted and fried perfectly and goes oh so well with the sweet and spicy sambal sauce, was good only for one and not two people.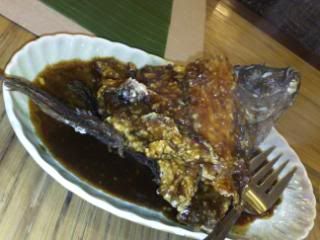 Since we asked for the Mixed Vegetables with less fish sauce, it now tasted just right. I also like the mixture of the vegetables used and how they were complemented by the fish sauce. What I don't like in the dish was that the vegetables weren't that cooked. It was so hard that I even choked on one of the vegetables.
Happy Eating!