A few days after our Arya experience, we (my husband and I) plus a couple of friends had an early dawn snack at Mister Kabab in West Avenue.
Although it was my first time there I already know what I would order - their
Chicken Special Kabab with Pita Bread (P133.00)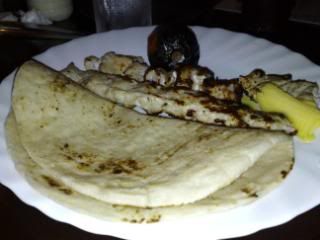 The structure of the meal was similar to Arya's. I also ate it the same way as I did Arya's Koobideh.
They ( Arya's and Mister Kabab) were almost the same but Arya's definitely superior in everything (taste and presentation).
Happy Eating!