I passed by them on my way home. They were along the Sky Garden in SM the Block.
I asked for their best sellers and were told that they are Carrot and Red Velvet. Since I was not in the mood for a Carrot Cupcake, I just bought the
Red Velvet (P33.00)
plus their
Frosted White Chocolate (P27.00)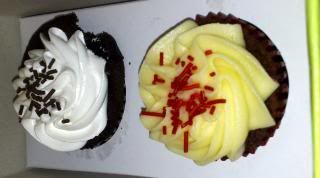 Both didn't taste of chocolate or if they do, just a little. The icing of the Frosted White Chocolate was similar in taste to Costa Brava's White Birthday Cake but of inferior quality. While the Red Velvet's icing was the sweet type and not the cream cheese one. The cupcake base was also dense, almost dry.
Happy Eating!