I have long wanted to eat here. I love pizza, especially cheesy ones. Also, that I've heard that they have cannolis. I haven't eaten one but have long been wanting to.
I went out of the house early (in my book) just so I can be at
Nolita
in the afternoon.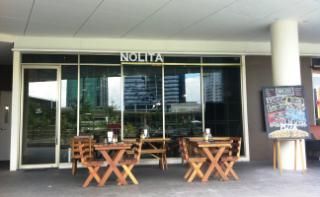 When I arrived there were only 2 other customers. So I definitely took my time to look around, took a lot of pictures, stare at the menu and at the pizzas on display, asked a lot of questions and tried all their free samples.
I have tried their Mango Mojito and Ginger Lemonade. I like the Mojito but made a face when I took a sip of the Ginger Lemonade. It had a weird taste. I also had a taste of their Dark Chocolate Chip Cookie, which unfortunately were sold-out already. All that were left were the bite-size samples.
I were told that the best sellers for pizza are the Chicken Parmesan and the Spinach with Asparagus. As I already have my eyes set on the
Wild Mushroom Walnut
, I got that plus a slice of the
Chicken Parmesan
.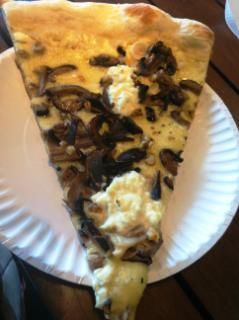 Wild Mushroom Walnut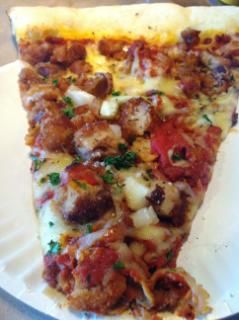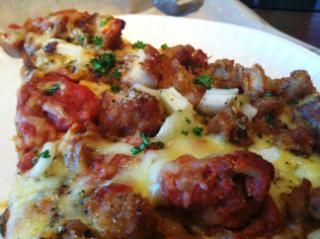 Chicken Parmesan
Of the two I love the Wild Mushroom and dislike the Chicken Parmesan. I found it too salty. As in you need an extra crust to clear your palate of its saltiness. It's sickeningly-salty.
For my dessert, I had the
Cannoli
and
Triple Chocolate Cookie
.
Cannoli
Triple Chocolate Cookie
The Cannoli was very good. No wonder Peter Clemenza told Rocco to leave the gun and take the cannoli (from the movie The Godfather). I wouldn't leave it too :-)
The Cannoli was sweet because of the powdered sugar and candied orange peel, but the cream with the pistachios was so delicious. The pastry shell too was light and crisp. Nolita made something as sinful as a cannoli seemed so right and good. Kudos to the chef, rather to the one who made the cannoli.
While the Triple Chocolate was just plain sweet. No taste of chocolate except of the white chocolate chunks.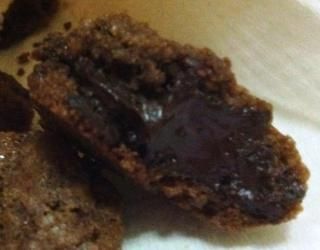 I will definitely be back to try their Spinach with Asparagus, have another slice of the Wild Mushroom, try their imported sodas, have a Mango Mojito, buy a couple of Cannolis and a piece or two of their Dark Chocolate Cookie. I just hope that by that time there will be no more flies inside the restaurant. As yesterday I had a hard time eating as I had to shoo a lot of flies off my food and drink. One of which even kissed me on the lips while I was talking to the cashier.
A family of four came as I was eating my order and they kept on staring at me as my table were full of food, considering I'm a solo diner, while they were just sharing on two slices of pizza. Me and my bottomless tummy.
Happy Eating!