My friend and I were at the Greenhills/San Juan area, for a day of fun and catching up.
We were overwhelmed by the number of restaurants in the area, it was hard to choose where and what to eat.
Since I'm up for anything, I let my friend decide (though I gave him some recommendations). He chose Angel's Kitchen along Connecticut.
He was eyeing the Pakbet with Lechon Kawali and Chocolate Bagoong (w/c I later found out was their best seller), but we settled for
Seafood Chowder Soup P198 and Parmesan and Caesar Glaze John Dory P378
. We ordered light since my friend is allegedly on a diet =)
While waiting for our orders we were given Melba Toast with Chicken Liver Pate to snack on.
The melba toast was buttery and crunchy, it also complemented the creamy and smooth pate. There's also no strong aftertaste and saltiness in their pate. The bad part with the melba toast and the pate is it's not bottomless, you have to pay P35 for a second serving.
Just as we're finished with the toast and pate, our Seafood Chowder Soup arrived. We asked for the soup to be split into two.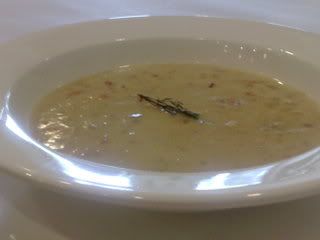 Their version of the seafood chowder was not thick. It was light but still rich and creamy. It also has lots of ingredients that were cut into smaller pieces but were still able to retain their shape and texture even after cooking. The chowder was also perfectly-seasoned. Truly a comfort food and one of the best seafood chowder I have ever tasted. Ditto by my friend.
When we were thru with the soup, our main dish of Parmesan and Caesar Glaze John Dory was served.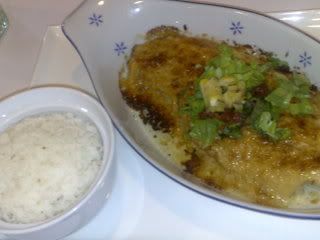 The John Dory was baked with parmesan cheese and topped with vegetables and lemon peel. An order is served with a cup of white rice.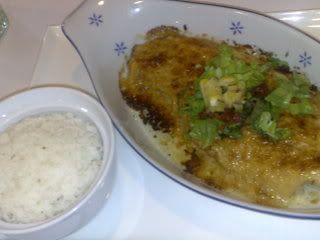 It is creamy, cheesy and salty (in a good way). The john dory will really melts in your mouth. The veggies and lemon peel added crunch and tang to the dish while the white rice cuts its creaminess.
Personally I found an order is only good for one, but if you pair it with other dishes or want to eat light, then it can satiate two.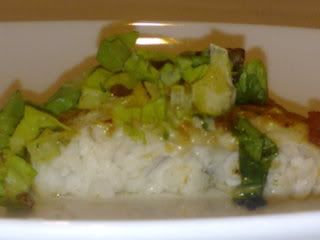 And what better way to end a meal but by having dessert or
Banana Cream Pie P158
for us.
The banana cream pie was huge. Though I know that I can finish it by myself, we still shared.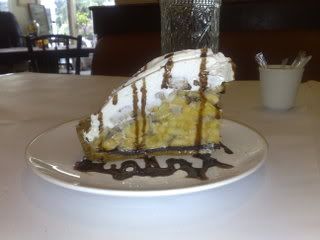 It is layers of graham crust, chocolate, lots and lots of sliced bananas, topped with whipped cream and drizzled with chocolate syrup.
You might mistaken it for a nauseatingly-rich & cloyingly-sweet pie, but it is it's exact opposite. It is a light and not too sweet pie, best shared.
We enjoyed our meal here and we'll surely come back for a second visit. Of all our orders, I will still order everything except the banana cream pie. I'm still a chocolate person so I might order the Choco Lava Cake or Rustic Apple Pie with Caramel Sauce next time and maybe their Pakbet and Lechon Kawali with Chocolate Bagoong.
Happy Eating!
ANGEL'S KITCHEN
57 Connecticut St.
North East Greenhills, San Juan
Tel Nos : 744-1018, 721-8822