We were looking for Tender Trap in Greenhills (which I later found out has closed shop), when we saw their sign.
I have read about it on blogs, almost all of which were good reviews. So I wanted to try it out for myself.
Since my friend was still full from his amazing cone sausage pizza, I just had an order each of
Silly Burger P70 and Cayenne Hot Fries P35
.
I chose the vegetable patty on whole wheat bun.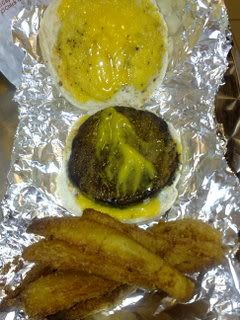 The silly burger has sour cream, garlic chili and cheese toppings.
The bun resembled a pandesal but denser. The vegetable patty was smooth to the tongue with a smoky grilled flavor to it. It was also very spicy. I like the way I felt after eating this burger, satisfied but not heavy.
Their cayenne fries are something, like eating the seeds of pepper. It was very spicy it burnt my tongue. My first time to eat fries that spicy. Maybe I'll just stick to the potato wedges next time.
I miss the Cajun fries of a former booth at the food choices in Glorietta, I'm not sure if Cajun is also the name of the stall. They also sell big and juicy burgers.
Happy Eating!
GOOD BURGER
Grrenhills Shopping Center
Level 1 Connecticut Carpark,
San Juan, Metro Manila
Tel No: 723-4663