Last Mother's Day, with my sister and her Singaporean boyfriend still in town, we had a mini get-together at Pepper Lunch in Greenbelt 5.
The choices that afternoon were Pepper Lunch and Mongkok.
My sister wanted Mongkok cos she said she already tried Pepper Lunch in Singapore and didn't like it. But my brother-in-law told her that the Pepper Lunch here was different. That it is good.
There was a long line outside the resto that we had to wait for close to 20 minutes just to be seated.
When I gave my usual order of Unagi /Salmon to the cashier I was told that it was no longer available. They don't serve unagi anymore.
I asked @pepperphil in twitter what's the reason behind the removal of Unagi in their menu and was told that Unagi prices are going up every month thus they cannot resell anymore at their price.
With the Unagi/Salmon Combination out of the picture, I just ordered the Salmon Pepper Rice, but now even their mini salad was gone. The choices now for the add P60 combo was a drink, miso soup or seasonal soup (cream of mushroom that afternoon) or mashed potato or kuromitsu soft ice cream.
There were 8 of us that afternoon. 3 ordered the Double Salmon Pepper Rice (meaning with extra salmon) with 2 Cream of Mushroom Soup and one (me) Goma Kuromitsu. I also ordered my fave Shake Shake Spicy Tuna Salad. YUM!!! But I still miss my Unagi.
One (my sister's bf) ordered the Chicken and Angus Steak with Pepper Rice and Goma Kuromitsu.
I didn't take a pic but based on his empty plate I guessed he liked it.
My sister ordered the Beef Pepper Rice with Cream of Mushroom Soup.
When her order arrived she said that that was not what she wanted to order and just forgot to change it. So she didn't like it that much (she's the only one who didn't like Pepper Lunch). She said it was too salty for her. My brother-in-law defended his favorite resto and told her that maybe she put a lot of the seasonings/condiments. He said that it was already seasoned and that you just adjust it according to your taste.
My brother-in-law had the Cut Steak with Pepper Rice and Miso Soup.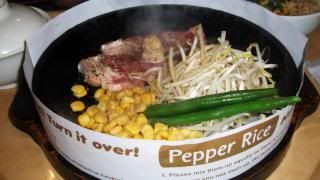 He said that it was good as always. He just forgot to have it with extra egg. He liked it that much that he ate almost half of my rice and my mother's rice and another order of a plain rice.
While my preggy sister and my brother both had the Curry Beef Rice, one with Goma Kuromitsu and the other with Mashed Potato.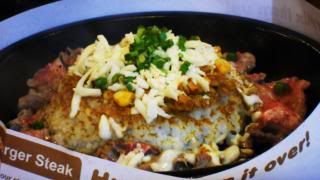 We were surprised that now the Curry Beef Rice comes with a sprinkling of cheese on top. And as expected, anything with cheese is delicious.
Since it's mother's day, my preggy sister and my mother each got a free yakisoba of their choice. They both chose the Seafood Yakisoba which honestly was not worth its 340 price. And the seafood being little shrimps only.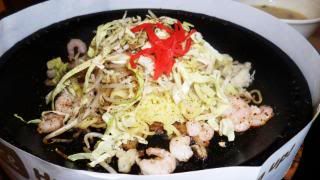 Happy Eating!