My mother was having issues with her newly-bought cellphone that we went to the Sony Ericsson store in Glorietta to have it checked. We also asked my sister and her family to meet us there.
But Before going to Sony Ericsson we first had lunch at Mongkok in Glorietta 5.
I let them do the ordering this time.
My brother-in-law, told the server to serve first the Duck Pao. He said that if it will be served with the rest of our orders, that we wouldn't be able to appreciate it.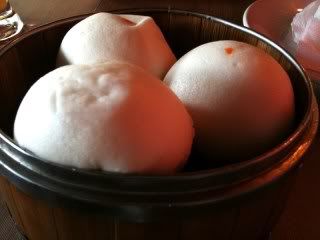 DUCK PAO (P75) 
Well, it wasn't served first. It was served next to our order of
Crabmeat and Corn Soup (P130)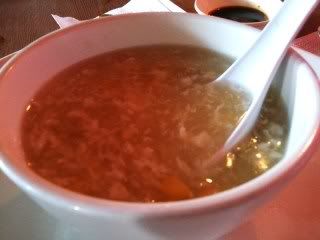 Their Crabmeat and Corn Soup was not the mix type. Theirs was the real thing. We even came across little crab shells with the meat.
Back to the Duck Pao. The paos were good. I especially like the fluffy and incredibly-soft white buns. They were cute and tasty. And you don't need to dip or put asado sauce anymore because it is already tasty as it is. We all liked it too much that we bought a lot to take home. One order each family member :-)
We were supposed to have the Steamed Fish with Ham, but since it wasn't available, we just changed our order to
Steamed Fish with Garlic (P260)
Not as good or as big a serving as Mann Yann, but still better than Superbowl's version.
Then came the
Shrimp with Radish Cake (P260)
The radish cake was chewy and tasty while the asparagus was crunchy and good for you :-)
They also ordered the
Beef Tenderloin Chinese Style (P250)
, something which looked and tasted like Pork Tocino.
They all liked it too. A serving was huge, that they weren't able to finish it.
For our rice we had the
Fookien Fried Rice (P230/Large)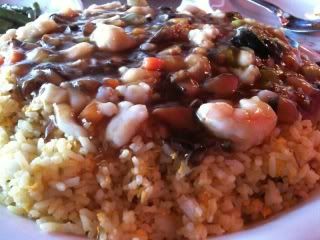 Sort of like Yangchow Fried Rice with saucy seafood and vegetable toppings. 
It was good and very tasty.
For desserts we had the
Custard Spring Roll (P60)
, or spring roll with custard filling.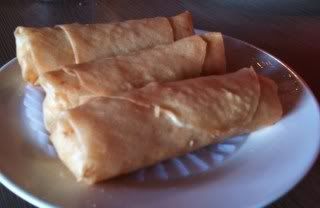 The filling was not custardy though, more of eggy than custardy. 
While the
Red Bean Cheesecake (P65)
doesn't have the red bean taste nor the cheesecake texture that we are used to.
It was more of a cream or a no-bake cake variety. But we like the graham crust at the bottom.
For drinks they had unlimited
Sjora (P70)
, Mango Peach flavor. It was good too and I so love the bright yellow color of the drink. It kinda uplifts your mood. My brother-in-law even had 7 glasses of it.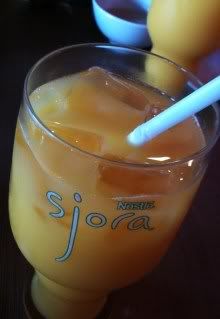 They were all thirsty as a camel that afternoon :-)
We had a satisfying and very filling meal at Mongkok. My brother-in-law even talked non-stop about how good everyhing was all afternoon.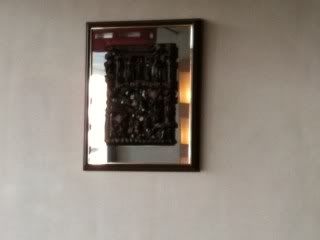 Happy Eating!

MONGKOK
3rd Level, Glorietta 5
Ayala Center, Makati City