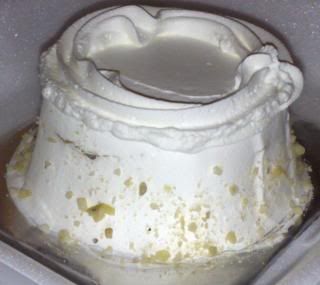 One of the
20 Yummiest Commercially-Baked Cakes
according to the
Inquirer
, especially prepared by
Pixie Santos-Sevilla
for
Bagoong Club Restaurant
.
Layers of meringue and calamansi curd encased in marshmallow icing.
This was very light, literally. I had it to go and it was like I was carrying nothing. Its taste was also light and refreshing. I just find the price too high for its size and taste. It was so small and the meringue used was not the almond, cashew or any nut meringue but just the common, bakery sugar meringue.
It seemed as if you let the wind blow-off your
P130
, it was not a practical purchase.
Happy Eating!BAGOONG CLUB RESTAURANT
122 Scout Lazcano Street,
Quezon City