Just when I thought that the
Brazo de Mercedes
was their best cupcake, I was confronted by their
Caramel Cupcake
.
Yellow cake filled and iced with caramel.
My friend and I were in unison, when we said that this has got to be their tastiest cupcake. The yellow cake base was moist while the caramel has just the right level of sweetness and creaminess.
To complete our order of pack of four, we added the
Carrot Cupcake
.
Carrot cupcake with generous amount of nuts, topped off with cream cheese icing.
Just as with any of their cupcakes, the carrot cake base was very moist, packed with carrots and nuts. The cream cheese icing was also good I can't seem to get enough of it. Tangy, rich, sweet and creamy.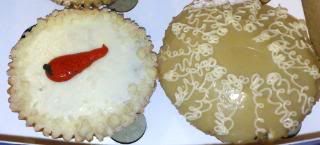 Happy Eating!