I miss my husband terribly and since I still have many more months to wait for us to be together again, I just hold on to his favourite foods for now, like
Oliver's Super Sandwiches Egg Mayo P98
.
It is his favourite sandwich in
Oliver's
, he usually have this on buttered then toasted/grilled bread. So that's what I ordered, the same thing, the same way.
It tasted good, creamy egg mayo on a crunchy, nutty and chewy wheat bread, but it wasn't as good as I remember it to be. What's missing? Butter, salt and pepper.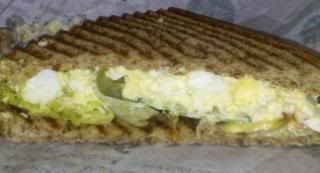 When I asked the staff, he said that they don't put butter or oil on their breads. Since when I asked again, and he answered ever since. I doubt that it's true because we (my husband and I) usually have our sandwich with butter. I may not know everything but I definitely know my Oliver's Sandwiches. About the salt and pepper, I was too hungry to ask =p
Happy Eating!OLIVER'S SUPER SANDWICHES
2nd Level, GLorietta 2,
Makati City