Still inside
Divisoria Mall
, there's a
Baker's Fair
Bakery with non-stop lines of eager customers.
Curious, I looked around and found some good stuff to try, like the
Chocolate Macaroons P4.25, Diced Hopia P3.50 and Chocolate Pudding P10
.
As I have blog a lot of times already, I love bread pudding & chocolate. So passing up the chance to try the chocolate pudding of baker's fair is insane.
Their chocolate pudding is like a denser chocolate cake with moist top covering and randomly incorporated chestnuts and raisins.
It is not sweet thus best eaten warm with a scoop of ice cream.
Their diced hopia has a crunchy shell but with a smooth and creamy filling. You'll definitely love these bite-sized hopia especially when newly-baked.
And last but not the least and also my favorite from the bunch, the chocolate macaroons.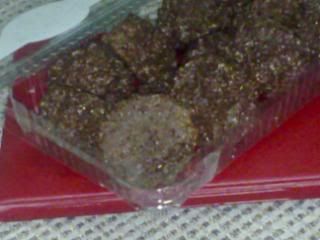 Crunchy coconut with a bittersweet chocolate taste. It may not look appetizing but its taste more than made up for it.
Happy Eating!
BAKER'S FAIR
HT4/HT5 3RD Floor,
Divisoria Mall