I went at the Fort branch of S & R for their annual sale.
There were lots of people, and with every minute, the items were going by fast. It was hard not to get dizzy just by looking at them. And since I went there past noon on the second day of the sale, a lot of the good stuff were already gone =(
It was a known fact to not shop on an empty stomach, to resist shopping impulsively. But since I don't want to waste any more time, I went ahead & shopped. Good thing there were a lot of free taste at their bakery, from Brownies to their Chocolate-O-Ring. All were moist and chocolatey.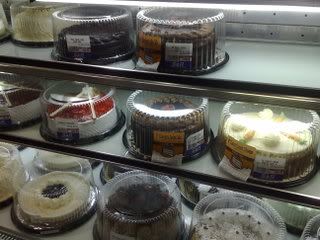 Since I was not up for housewares, linens, appliance, etc., I just stocked my cart with food. Burger King's Onion Rings (a new product, they also have Ketchup and Fries & Flame-Broiled Chips), TGIF's Quesadilla Chips, Pringles Sour Cream and Onion, US Apple Pie and US Assorted Muffins, were just some of them.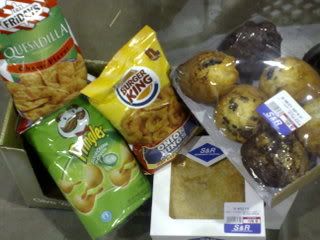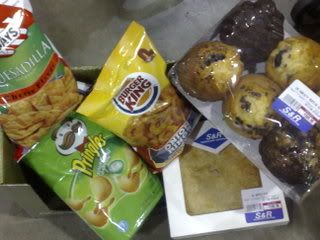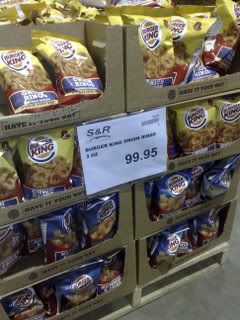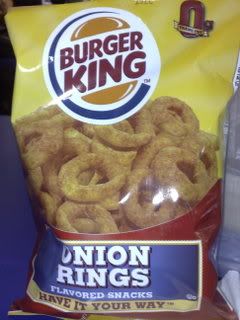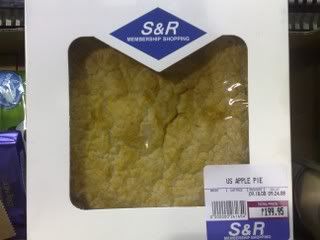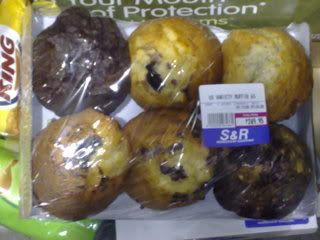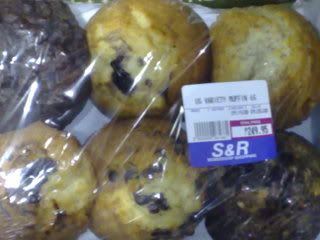 I have read that the US Apple Pie is a favorite of Lucy Torres. No wonder, since it really was good. Glistening creamy brown crust, tart, cinnamon-laced apples, silky, maple-flavored syrup, yummy!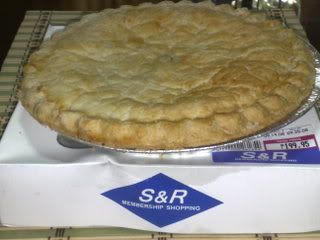 If you like apple pie, you'll definitely love S&R's US Apple Pie. It's my second favorite apple pie, the first being Starbucks Apple Pie (this comes with caramel sauce and whipped cream).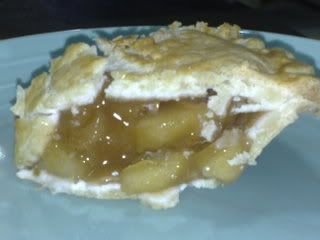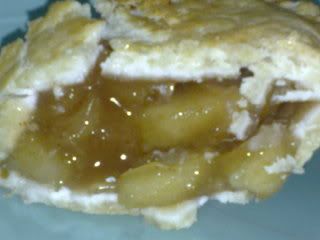 Since I wanted to try all the muffin flavors, I bought the 6-pieces assorted pack. It has 2 Blueberries, and 1 each of Chocolate, Chocolate Chips, Black & White and Poppy Seed. I was told that Blueberry and Poppy Seed are the best sellers.
Well, all of them were good. Soft, moist and huge muffins. Reminiscent of the muffins made by Ina Garten. Great for brunch, snack and dessert. I can say that they're the best muffins I have ever had. And personally my faves are the Black & White and Poppy Seed.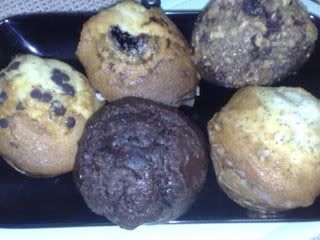 Eventhough my container at home were already bursting at the seams with fullness, so to speak, I'm already planning for my next S&R trip. Another 6-pack muffins? Why not.
Happy Eating!
S&R
FORT BONIFACIO
32nd t., 6th Ave., Fort Bonifacio Gobal City,
Taguig City
Tel No: 888-0640/888-0433