Though I was already full from all the free taste and the sweets that I bought from the Baker's Dozen, I still managed to sneak in some of the best sellers of
The Ice Cream Bar
.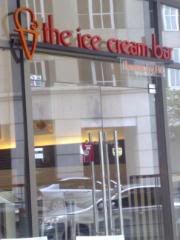 I ordered the
Chunky Chicken Sandwich P165
.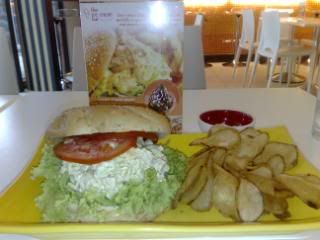 Chunks of chicken in a creamy spread, topped with crispy french fried onion rings, lettuce and cucumber on a slightly toasted Kaiser roll.
An order comes with
The Best Potato Chips in Town
(that's what they call their potato chips).
For my order they added apple in the chicken filling.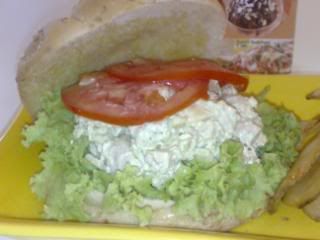 The first time they served me the sandwich, there were no fried onion rings like in the pics. After asking the staff about it, I was told that you choose between having the sandwich either with apple or onion rings or both. Since I wasn't informed nor asked about it and I like having both in my sandwich, the chef had the onion rings to follow.
Because of it, I was able to taste the sandwich with just the apple and with the whole shebang. I can say that I like it with both.
Though the chunky chicken filling was creamy or has lots of mayo, it was not as creamy and rich as Oliver's Chicken Mayo Sandwich.
I know that it's a total contradiction but the filling though creamy left a dry taste in my mouth. While the apple added crunch and juice to the creamy filling.
I applaud them for using fresh vegetables in their sandwich.
The lettuce was very green and crunchy. The tomatoes, cucumbers and apples maintained their texture, were all still juicy and the last two crunchy.
The kaiser roll was soft but would be better with more butter.
I also like the extra detail that they put on the catsup.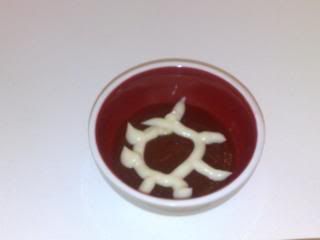 The best potato chips were just okay. Though, I don't think that they're the best but they're still good.
You can really taste that it's freshly made and not bought from a factory. It's just lacking saltiness, which what I expect from potato chips.
Since it was 3pm when I dined, I was given a complimentary
Choco-Pinipig Sundae
(at P130 when not part of the promo).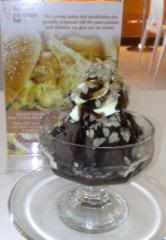 From 11am-4pm, Mondays-Fridays, you can get any ice cream sundae or any flavour scoop when you order a sandwich or pasta.
Tsokolate ice cream topped with a frozen choco shell, crunchy pinipig bits and whipped cream.
Just like the sandwich and the potato chips, this was just an okay sundae. It tasted of our native tsokolate which I'm not that crazy of.
Combined, my orders can satiate 2 people for snack. They are generous with their servings.
Would I come back? Why not. The service was fast and the place, clean. The only thing that I don't like was the plastered frown on a lady staff.
Happy Eating!
THE ICE CREAM BAR
Joya Tower, Rockwell Center, Makati
Tel No: 403-0891