I can't contain my excitement for the
Baker's Dozen in Powerplant Mall
, upon reading of it on Manila Standard, that I immediately got dressed and went to the first day of the fair.
There were the "sophomores" (second year on the fair), Iya's Pastillas, Christina's Kitchen, Sweet Life by Ange, Mary Grace, Kitchen's Best, Saltine, San Lo's, Costa Brava, and the "freshmen" (first- timers), Patisserie Caroline, Gayuma, The Cru Kitchen, Joyce's, The Russian Cookie House , Estrel's and Empire Cheesecake.
Of the returnees, only Mary Grace has new offerings, like the Chocolate Mousse and Mango Melba (both are not their exact names). The Mango Melba has the same vibe as Conti's Mango Bravo.
Of the new-comers, my number 1 fave is
Joyce's
. I'm now addicted to their
Rhum Butter Cake P80/small bundt
.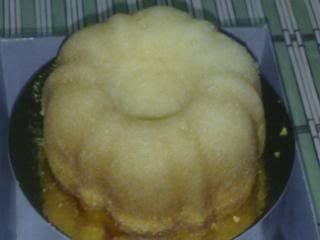 "
Butter cake on its own is already good but with rhum, much better.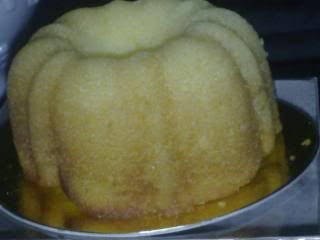 "
The Rhum Butter Cake of Joyce is buttery soft and with a kick. It's like heaven and hell on your tongue.
I went back to the booth a couple of times to hoard on this. I can't seem to get enough of it.
Another must-try from Joyce's is their
Portobello Mushroom Dip in EVOO (10oz) P300
.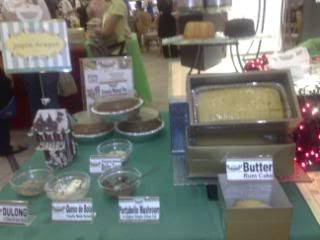 "
It is very tasty and satiating for a dip.
Second is
Empire Cheesecake
. They sell macaroons and cheesecake lollipops (cheesecake in lollipop form, on a stick without the graham crust ) with variety of flavours. Plus their packaging is really pretty.
"
I bought their
Black and White Cheesecake Lollipop P30
. It is cheesecake lollipop coated with dark and white chocolate ganache.
"
"
The cheesecake was creamy, tangy and sweet. It tasted of pure cream cheese or cheesecake without gelatin or extenders. It also has a condensed milk sweetness to it brought by the white chocolate which was contrasted by the bittersweet taste of the dark chocolate, YUM!
"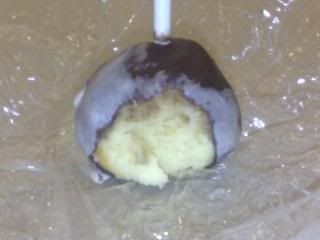 "
I have also tried their
Cookies and Cream Macaroon
and it was very tasty too.
Third is
Patisserie Caroline
.
"
I like their
Carrot Walnut Loaf P220
because it's moist and packed with carrots and walnuts, and also their
Oreo Fudge
and
Peppermint Fudge Brownies P150 (box of 8)
. The Peppermint Fudge Brownie tasted like an after eight cake and the Oreo was like chocolate overload because it has a strong chocolate taste.
Fourth is
Estrel's
.
"
I love their
Caramel Cake
which unfortunately was already sold-out when I arrived. Good thing though, because I was able to try and liked their
Food For The Gods P360 (20pcs)
.
It's tightly packed with nuts and raisins and was incredibly moist and delicious. I just wish they will sell miniature version of their Caramel Cake because I can't finish the whole cake in a day, or rather I can but I won't.
Another fave is
The Russian Cookie House
.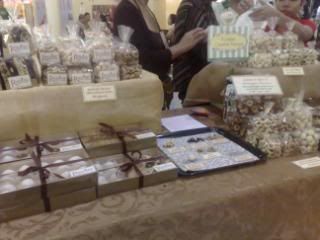 "
I like their
Russian Mini Cookie
. It was very light and will almost melts in your mouth. It also has a surprise crunch on the center from the walnut. And also their
Mini
Pistachio Cookies
, just because I love pistachios and chocolate. Both cookies are sold for P380 for 65 pieces.
Well, Baker's Dozen is really something to look forward to every weekend. It's like heaven for a dessert lover like myself. I just wish that Kitchen's Best will bring more of their Banana Toffee Pie. I wasn't able to buy one because it was already sold-out when I arrived. I'm also looking forward on seeing, tasting and buying from
Polly's
(I really miss their chocolate cake, orange poppy seed cake and bread pudding) and
Karen's Kitchen
(maybe they'll bring with them BTS, Xanadu and Green Tea Frozen Brazo and will sell them cheaper than in UCC =p) A foodaholic can dream.
Here are the booths from the Fair and the must-try according to me :-)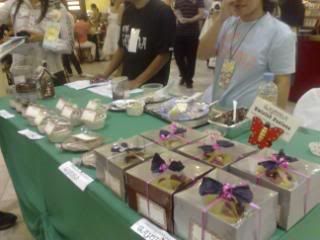 "
GAYUMA
- Their sweets are just okay tasting.
"
CHRISTINA'S KITCHEN
- I love their Carrot Cake, it's moist and delicious, and also their Bread Pudding, which has the taste and consistency of a leche flan.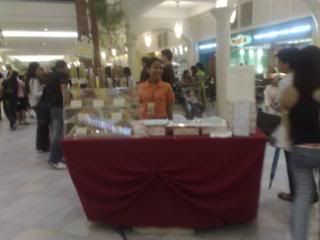 "
SALTINE
- I like their Mushroom and Spinach Patties and also their Lemon Squares, they are creamy and tangy.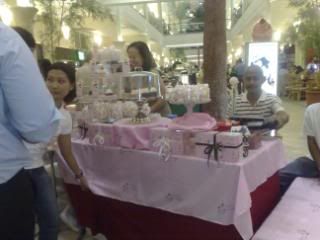 "
SWEET LIFE by ANGE
- Their Frozen Brazo de Mercedes (Sweet Surrender) is a must-try.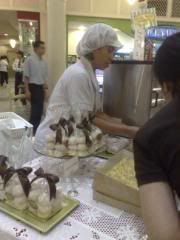 "
SAN LO'S
- I don't like their empanadas =(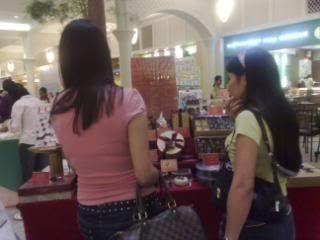 "
KITCHEN'S BEST
- Their brownies and bars are delicious. I must yet to try their infamous Banana Toffee Pie.
Happy Eating!