While waiting for my sister and her family, we snacked at
Tokyo Cafe
of All-Meat Pizza, Adzuki Parfait and Coffee Jelly Parfait, all new offerings of the cafe.
The
Adzuki Parfait P105
, has green tea and vanilla ice cream, red beans (adzuki), topped with whipped cream and choco wafer stick.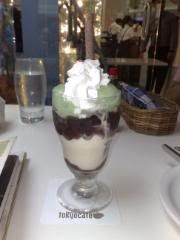 The green tea ice cream tasted like the Green Tea Frap of Starbucks, while the vanilla ice cream has a creamy and milky taste.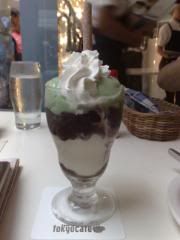 The parfait has lots of red beans that made me like it more. It is now one of my favourite cold desserts.
The
Coffee Jelly Parfait P105
, has three flavours of ice cream (chocolate, vanilla and cheese)and coffee jelly at the bottom.
It was also delicious and would satisfy any coffee lover.
The choco wafers in both parfait were very chocolatey and don't taste like the usual wafer sticks in supermarkets.
The
All-Meat Pizza
has pepperoni, bacon, ham and salami on a thin, crusty and chewy crust , with a tangy tomato sauce.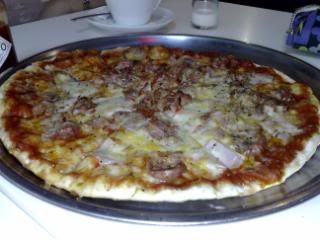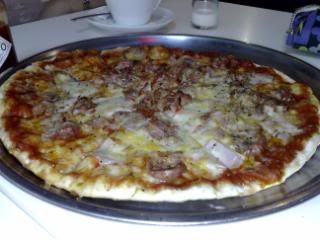 It's a mix of different flavors, from peppery to salty and sweet.
The items at Tokyo Cafe are good alternatives to the usual Starbucks, CBTL and the likes. But unlike them, the seats at Tokyo Cafe are not comfy and they don't entertain overstaying customers. They'll buss your table as soon as you put down the utensils, even if your companions are still eating. It was annoying and borderline rude.
Happy Eating!
TOKYO CAFE
SM Mall of Asia