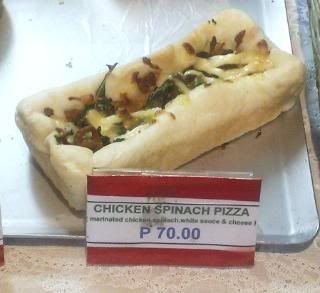 CHICKEN SPINACH PIZZA P70.00
- with marinated chicken, spinach, white sauce and cheese
The bread was so soft while the toppings were proportionate to its size.
You might think otherwise since there's an inch or so space around the edges, but when you eat it you will understand. You'll understand that you needed those inches of untopped bread to break the taste of the toppings ( salty spinach and creamy white sauce).
This is better and filling than other real pizzas.

TUNA WASABI ROLL P55.00
- with Parmesan cheese
The tuna filling was so good that I wish it has more of it. I was also left with quite a few bread that I don't know what to do with it.
It doesn't mean that it wasn't soft because it was, just that compared to the Chicken Spinach, it has a crunchy top brought by the Parmesan cheese that also gave it a salty-garlicky vibe reminiscent of Sbarro's Garlic Roll.

Happy Eating!
JIPAN
Glorietta, Makati City