I was craving for an inasal eversince I read a blog about it. Yesterday I tried one at
Bacolod Chicken Inasal in Robinsons Ermita
.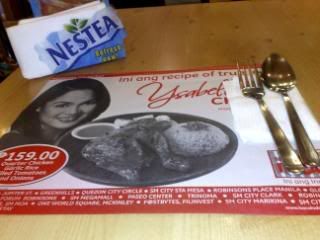 Since I love white meat, I ordered the
Petso (Chicken Breast)P95.50
. I also ordered
Garlic Rice
and
Ensaladang Mangga with Bagoon
g.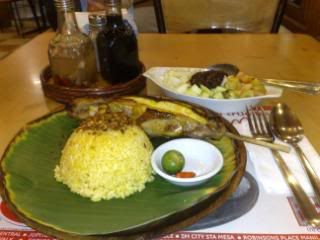 My orders came one after the other only after a couple of minutes. But while waiting I prepared the "Inasal Sauce" of calamansi juice, soysauce, siwarat vinegar and chili pepper.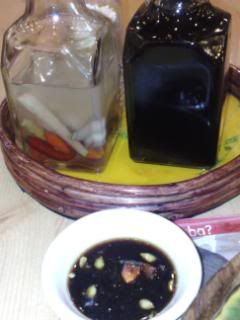 I also followed their recommendation on how to fully appreciate their chicken inasal to the letter. Like eating with your hands (without utensils), tear-off chicken pieces with your fingers then dip into the inasal sauce, eat with hot rice and wash down with a cold & refreshing drink. But in the end I wasn't that satisfied.
I expected the inasal to be malinamnam with the different native (from bacolod) herbs and spices infused in it but the end product was just tender and bland and all the inasal sauce did was made it spicy.
The saving grace in my Bacolod Chikcen Inasal meal was the Ensaladang Mangga with Bagoong. It made my meal not just tolerable but even better.
Happy Eating!