- dark chocolate mousse, chocolate ganache, almond sticks, almond and hazelnut powder for P130++ (mini) and P1150++ (whole)
It wasn't how I envisioned it to taste.
I was hoping for a Ferrero Rocher cake version, similar to the Jivara Cake of Bakerzin Singapore but it wasn't anything like that. It was more like a dark chocolate almond cake.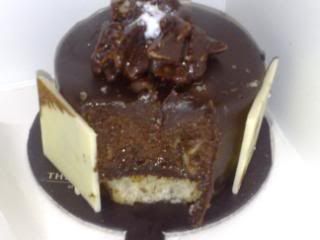 The sponge cake layer was almost coconutty in texture, the chocolate ganache was thick and smooth and it also has generous amounts of almonds in it with the hazelnut powder being non-existent.
But don't get me wrong, it was still a good cake, the name was just misleading.
Happy Eating!