My usual order at Kenny is their Solo B, but last tuesday I wanted to try something new like their Chicken Fillet American BBQ. I told the cashier my order but were told that they only have thigh part and none of the breast part that I wanted. With that told I resigned on just having their Solo A with fries, garlic rice and cookies and cream muffin for sides. I also asked for an extra BBQ sauce and ordered brownies for dessert.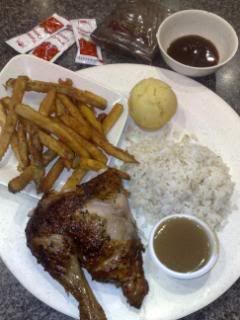 It was a good meal. I liked how the BBQ sauce gave a different taste to the usual chicken and gravy combination and was also a good complement to the classic chicken and garlic rice pairing.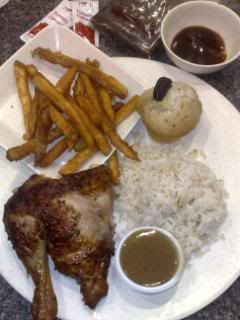 The fries were better when dipped on their peppery gravy than on Ketchup. While the cookies and cream muffin was not so different with their corn muffin except that it has a mini choco & cream cookie on top.
It was just ironic that they gave me a thigh part classic chicken when it's the reason I didn't order their Chicken Fillet American BBQ. It was just too late to send it back and I didn't want to make a fuss out of it. Good thing also that I was in a good mood that afternoon.

Happy Eating!