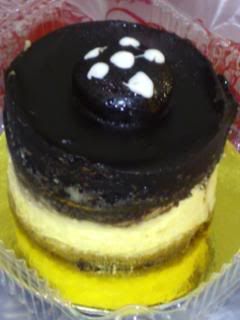 MINI DECADENT CHEESECAKE (P80.00)
Layers of graham crust, baked cheesecake and chooolate ganache topped with a chocolate coated cookie.
The cheesecake layer doesn't have the tart taste of cream cheese. It also made me wonder if it really has cream cheese in it. The ganache part was fudgy like a chocolate bar while the graham crust was just so so.
What I like in it was the chocolate coated cookie on top. It was reminiscent of The Russian House's Black Russian.
It was a good cake to say the least but not a good cheesecake.
Happy Eating!
ILUSTRADO
Mall of Asia