Part of the Christmas Offering of Starbucks, turkey sandwich on cranberry bread.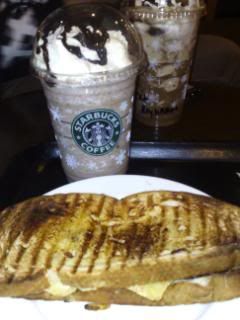 I love the Turkey Sandwich of Olivers that I tried Starbucks version.
I was a little bit disappointed with the measly turkey slice, the equally minute dressing and the dry cranberry bread. I even told my friend who's having the Tomato, Bacon and Egg Sandwich that compared to what she's having my sandwich was a very sad sandwich. It made me even sadder thinking about it.

Happy Eating!