served with fries and a regular drink for P99.00
You have a choice between beef and chicken. But since their other chicken products were too salty for my taste I chose their Beef Burger Shots.
It has caramelized onions, cheese and BBQ sauce.
It was a good burger, small and soggy because of too much BBQ sauce but was still very good.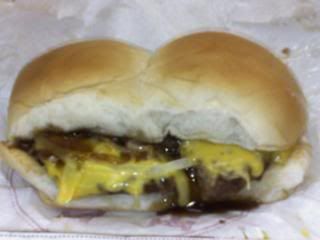 It was BK's take on White Castle's Burger (small square burgers also known as "Slyders")
My only complaint in the burger shots meal was the fries. They were bland and not as salty-good as Mcdonalds.

Happy Eating!