Saw a lot of new (for me) and cute donut varieties at Gonuts. Like the Disney Collection with Winnie, Piglet and Mickey. Saw Ube Crumble, Red Velvet Crumble and Blueberry Cake donuts too.
But since I just had my yogurt fix and will be having dinner in just a short while, I just bought one. The
Red Velvet Crumble
.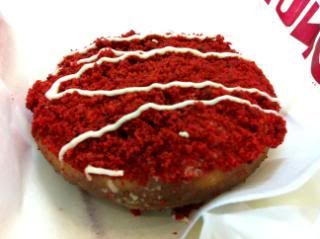 original donut with red velvet crumble on top.
Honestly, I'm not that blown over by it, that I just took one bite and that's it. I still like their Pastillas de Leche more. So did the cashier.
It reminded me of Red Ribbon's Ube Cake and tasted like it too.
Happy Eating!