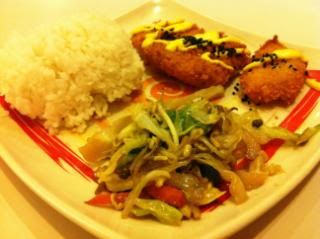 This was what I wanted to eat the last time I was at karate kid. But the glitter of melted cheese on top of the Katsudon grabbed my attention. But I was really set on trying this at least once.
The day after my katsudon meal I was back again at karate kid with a definite order in mind. The
Fish Furai
.
The fish was soft and buttery, the breading crispy and there's just enough tartar sauce to go around, for me that is. I like just a little bit of the sauce on my every bite. The veggies were overcooked but were seasoned well.
I was satisfied with my order and might order this again, though not anytime soon. I feel I need a break from karate kid.
Happy Eating!