It was my first time at Toast Box and I can't decide what to order. My friend recommended the Hainanese Chicken Rice but I was intrigued more by the Nasi Goreng
.
The cashier said that it's better than their Nasi Lemak, which I also wanted to try. With that said I settled for their
Nasi Goreng
. The national dish of Indonesia and which literally means fried rice in indonesian.
It came with fried anchovies, fresh cucumber slices, sambal sauce and fried egg.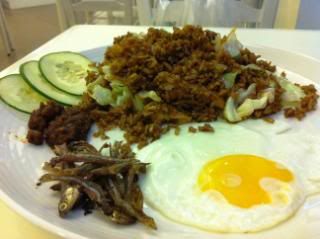 I like how the fried rice tasted and the way it was cooked. And even if it's oilier than Chinese fried rice and only has cabbage, garlic and chicken flakes, I still like this fried rice version, but not as much as Yang Chow. I just found the side dishes (anchovies, cucumber, sambal sauce and fried egg) a nice touch, compared to a boring Chinese fried rice.
The fried rice was a little bit sweet but at the same time was "malinamnam". Every morsel were coated with the sweet brown sauce, kecap manis. I just wished they added more chicken and meat just like a Nasi Goreng Istimewa (special fried rice, which has a lot going on), that way it'll be a complete meal on its own. A caveat though for the health conscious, this is oilier than Chinese fried rice, so order at your own risk.
I wanted to order too the Horlicks Dinosaur, or just a cold horlicks with horlicks powder on top, but since I just bought bottles of Horlicks in Singapore and haven't even open one, I foregone ordering it for now.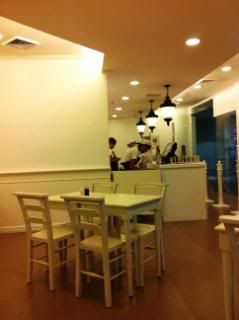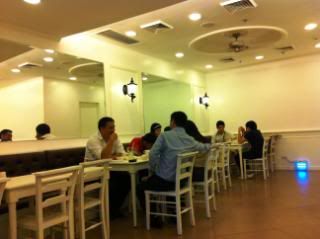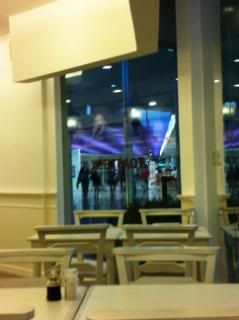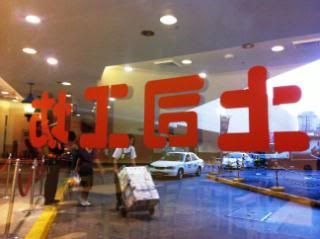 Happy Eating!
TOAST BOX
Ground Level, Robinsons Place Manila