I am always at Robinsons Place Mall these past couple of months, I am there almost every other day, twice a week the least. So it's about time that I ran out of options on where and what to eat. My no fail orders and restaurants were the Sampler 2 of Chef d' Angelo and the Roti Canai with Curry Sauce of Banana Leaf. I can eat them every day. I were to eat the same thing last Monday when I passed by and decided to eat at Karate Kid instead.
I was craving Torikatsu or any chicken fillet that's breaded and fried, that I ordered the
Cheesy Chicken Katsudon Meal
. With a couple more peso than it's solo price, a cheesy chicken meal has chicken katsudon with melted cheese on top, white rice, 3 pieces california maki, red iced tea, miso and corn soup and a brownie.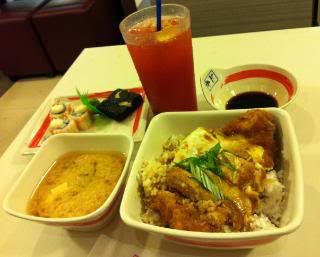 I liked the addition of corn to the otherwise boring but healthy miso soup. Both the california maki and the iced tea were just okay. The tea was just too diluted. While the brownie was moist and sweet. I did have a problem though with the cheesy katsudon. There were too much of the soy sauce/Worcestershire/salt or whatever condiments they used on the breaded chicken. It has even overpowered the cheese and it made me cringe everytime I took a bite as it was terribly salty. I did not enjoy eating it and wouldn't want to continue eating it for fear of getting sick. I stopped with just 3 bites, cos even if I removed the breading or the melted cheese, it was still over the top salty. The sauce has seeped in thru every nook and cranny of the chicken. It was salty on all parts and area. Since I can't and don't want to continue eating the chicken, I stood up and ordered another viand, the
Tofu Furai
.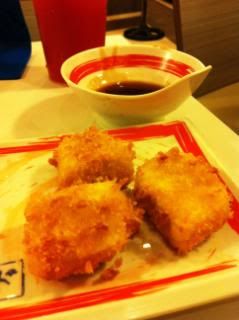 That 3 pieces of breaded tofu were very filling that I still felt full up to the wee hours of the morning. And compared to the cheesy chicken, they weren't salty, not even a little bit.
Happy Eating!
KARATE KID
4th Level, Robinsons Place Manila