My childhood friend was in town for a short while and she crammed a lot in her very short vacation. But despite how busy she was, she always makes time for me :-)
We were supposed to go out the time of "Pedring", but all roads were flooded so we decided to postpone it for a day. The next day even if it was still raining and not all electricity has been restored, we still went out. She'll be leaving in just 4 days so we really need to meet.
She fetched me around lunchtime.
I wanted her to try Bonchon, so we had lunch of
Chicken Wings and Legs
(soy and chili),
Kimchi Coleslaw
, and
Soy Garlic Chicken Chops
. I hoarded the chicken chops while she loved the chili chicken legs.
After lunch, we walked off the calories thru shopping. We both love to shop. When it was around 4PM, I asked her if she wanted to have an afternoon tea at
Shangri-La
, and she said absolutely. Like me she loves scones and have it almost every afternoon, with freshly-made berry compote and butter.
Inside Shangri-La's lobby we ordered the Filipino and Classic Afternoon Tea. I was hoping to try the Chocolate Tea Set but they were not available.
Classic (550)
- raisin and lemon scones with clotted cream and homemade strawberry jam
- goat's cheese and watercress
- smoked salmon, dill mayonnaise and pumpernickel bread
- roast beef, caramelized onion and seeded mustard aioli
- chocolate financier
- strawberry tartlet
- walnut brownie
- lemon cheesecake
Filipino Tea Set (550)
- bibingka (sweetbrice cake), beef kaldereta empanada (beef stew pie), vegetable okoy ( fritters), pan de leche with chicken adobo spread, calamansi tartlet, young coconut salad, rice paste roll, leche flan
Almost everything in the classic tea set was just average, the scones even less than average. They weren't as good as Manila Pen's, and they weren't serve with lemon curd. I was really disappointed and so was my friend.
Since this was just my second time to have an afternoon tea, the first one being a buffet, my friend had to walk me thru it. She said that we should start from the uppermost part of the tier, down. But since I am a dessert person, I started with the dessert tier at the bottom. The brownie was dry, while the cheesecake and everything else was just satisfactory.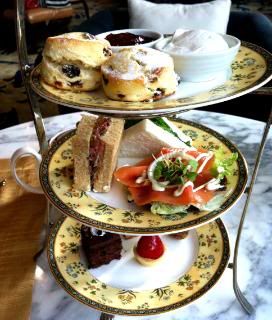 The second tier containing the finger sandwiches weren't much to boast off too. I don't like that there's too much watercress on the goat cheese sandwich, and that the caramelized onion was too sweet, also that the pumpernickel bread on my salmon sandwich has already sogged. But I do love the fresh salmon, that I ate all of it. Good thing too that my friend doesn't like raw fish, cos I devoured the salmon in just seconds.
If I hoarded the Classic Tea Set, my friend was all over the Filipino Set. She misses Filipino food. I don't :-)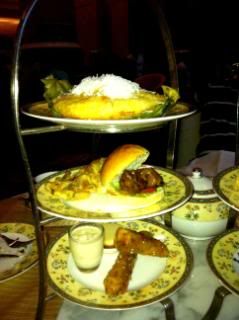 She loves the bibingka (rice cake). Actually she loves everything on the Filipino set, that she finished everything. I got to try the calamansi tart which was bland, and the leche flan, which was mildly-sweetened, if not none at all.
Despite my not so much rave about the food at the Shang, I really like the ambience. Compared to the Pen, which was too open and too crowded ( the seating and table arrangements), the Shang was cozy and warm and private. And you have this big space all for yourself. We were seated on these big living room/sofa kind of chairs, that you can really relax on.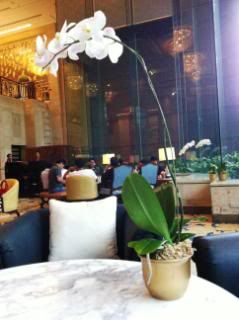 - fancy sencha green tea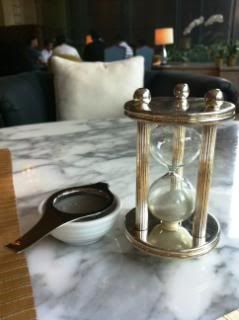 - tea sieve and timer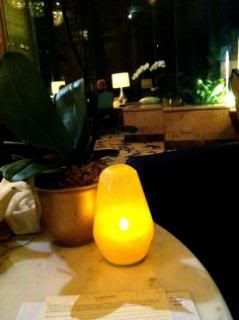 And there were music, great, relaxing music. First with piano and violins and come nighttime, from a harp. I can see myself going back here, even alone, with a new book or magazines at hand, and to come back just for the music and the ambience and not anymore about the food. I spent the same here as in Starbucks. If I ordered a sandwich/wrap, a cake and a drink at Starbucks, that would also amount to almost P500. I'll just have to add a hundred or so, and I could have more than that at Shangri-La. Plus I'll have privacy.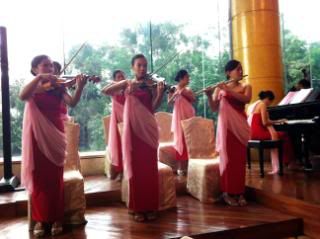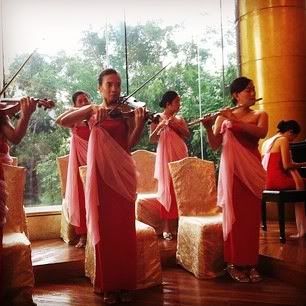 After our afternoon tea we went out of Shangri-La and Makati to Mall of Asia for another round of shopping. We can't seem to get enough of shopping.
And when it was near the mall's closing time we went to Pepper Lunch for dinner. I wanted her to try it too. Apparently there's no Pepper Lunch in Europe.
She ordered the Beef Pepper Rice with extra meat, while I had my usual order of Salmon Pepper Rice with extra fish, curry and double cheese. And for dessert, the Molten ala Mode. She said she loved it, though she liked my order more. I told her, it's the cheese :-)
And that ended our day out. She left last Sunday, but not without promising me a dinner at Shangri-La next year. I'm already looking forward to our dinner, but most of all, to seeing her soon.
Happy Eating!
*** Bonchon and Pepper Lunch pics to follow