The moment I read about The Cake Club on a blog I follow, I can't get it out of my head, that not even rain nor traffic can stop me from going to Bonifacio High Street.
I have read that their Truffle Fries, Red Beet Burger and Baked Cheesecake Ice Cream are must-tries that I ordered them all.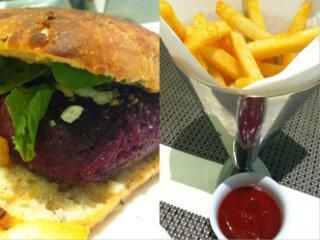 The Red Beet Burger and Truffle Fries arrived simultaneously. The
Red Beet Burger
wasn't on a red bun as what the blog said, it's on a ciabatta roll. The Angus Beef Burger was the one with the red beet bun and was their best seller. Apparently the blog gave the wrong info, and thus I ordered the wrong burger.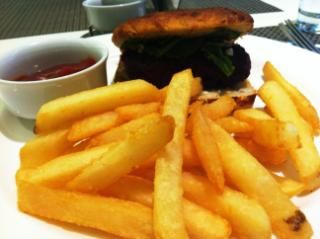 curry spiced roasted red beets, goat cheese, walnuts, arugula, caraway ciabatta roll
I didn't like the Red Beet Burger. The red beet patty was soggy and not firm as traditional burgers. The taste too was too Malay ( I'm on Malay food withdrawal, as I had too many on my recent KL and SG trip) and the roll was too oily. My hands were glazed with oil every time I hold it to take a bite. And after just three small bites I stopped pretending liking it and pushed it aside. Also, the goat cheese and walnuts were too minute to have an impact in taste or texture.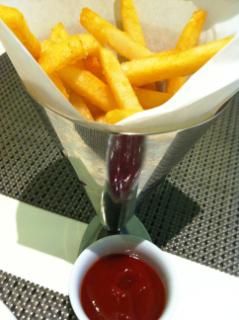 While the
Truffle Fries
smelled mildly of truffle. The top tasted of truffle oil, but the middle and bottom part were just like their regular fries. I even told the server about it. But he said that that couldn't be as the truffle fries were cooked with truffle oil. I would have told him to try it for himself, but as I wasn't in the mood to argue that night, I just let it slide. Anyways, I still prefer Bistecca's Truffle Fries over The Cake Club's.
crispy fried sliced potatoes, truffle oil, sea salt flakes
As I was disappointed with both my orders, and kinda lost my appetite for dessert, I just bought a pint of their Baked Cheesecake Ice Cream to go.
At home, I tried the
Baked Cheesecake Ice Cream
.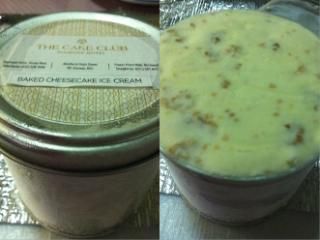 It was just like their Baked Cheesecake. It doesn't freeze like the regular ice cream. It was like you put the cheesecake in the freezer, and every time you take a spoonful, it will still melt smoothly on your tongue. I like it. I like that it's not too sweet, that it's thick but still melts smoothly, that it has a tart taste and that it has generous bits of crust incorporated in the ice cream.
Would I come back? Yes! There are still a lot to try.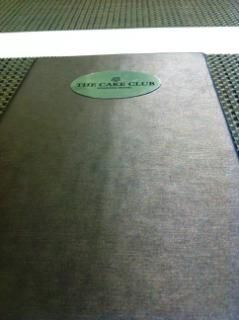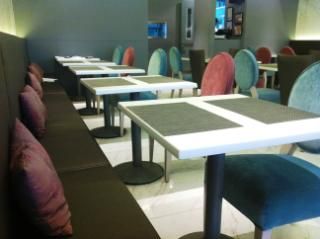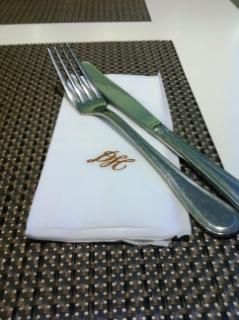 Happy Eating!
THE CAKE CLUB
2/F Bonifacio High Street Central
East Superblock,
30th St. cor. 7th St.,
Bonifacio Global City, Taguig