The next day I was back again at
Tony Roma's
, though this time I was not solo, I was with a friend.
As we know that an order is big, plus that they serve bread and butter, we didn't order any soup or appetizer, we went straight to the main course.
My friend wanted the Red Hots Ribs, as he loves spicy food, but upon the suggestion of the server that the
Memphis Ribs
were spicier, he ordered that instead.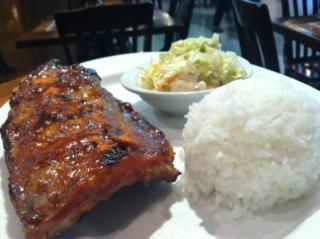 He had it with coleslaw and rice.
When his order arrived, he was very disappointed with his spicy expectation. The ribs weren't spicy at all. They were just sweet and not as good as their Carolina Honeys. The only spice you'll taste was the chili powder sprinkled on top.
While I had the
Southwestern Chicken
, that's served on a bed of rice and with tomato salsa.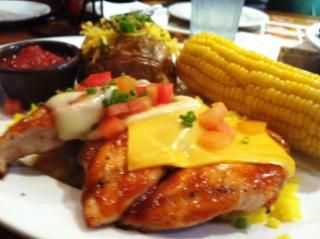 For my two side dishes I chose the corn on the cob and baked potato.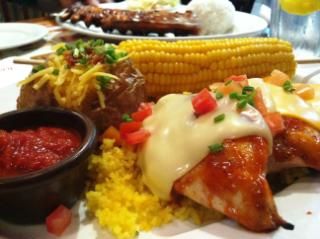 I like the chicken with melted cheese on top, the yellow rice, the tomato salsa, the corn on the cob, the baked potato. Basically I love everything on my plate.
For drinks we just had Iced Water with Lemon.
Happy Eating!