I always love eating at
Piadina
.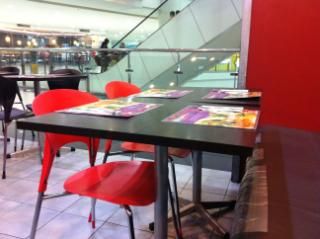 Before they have set meals that has pasta with grilled mozzarella and piadina. And sometimes in their stall in Glorietta 4 (Food Choices), they also serve it with breaded chicken or pork.
Now though, they don't have that kind of set meals anymore (haven't check the one in Glorietta, only the one in Robinsons Ermita). They only offer pasta of the day with piadina and pasta and piadina (both without grilled mozzarella).
The change in menu came with a change in price too. Their Carbonara (my favorite pasta in piadina) is now even more expensive than the personal size serving of CPK's Garlic Cream Fettuccine. How about that?
They were also not that flexible anymore. Before you can have the pasta of the day replace with your choice of pasta for a price, but now they don't allow that too.
But since I was craving for their
Italian Sausage Piadina
, I ordered one.
An order now comes with their soup of the day. That day it was
Cream of Mushroom Soup
.
The soup wasn't that good. It was thin and bland. The piadina too wasn't as good as before. I don't know what happened. Still, I'll give them another shot, though this time I'll order from their stall at the Food Choices (Glorietta). Hopefully they still offer the Bologna Set - with your choice of pasta, piadina, half grilled mozzarella and iced tea.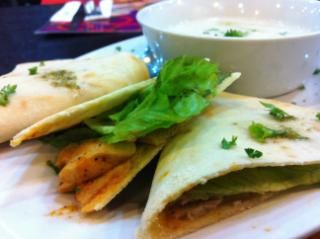 Happy Eating!
Update:
their express outlet inside Glorietta Food Choices is now closed :-(