Before going to The Cake Club for dinner, I stopped by Sonjas to buy myself a box of 6 of their cupcakes.
I bought 2
Vanilla Sunshine
, 1
Lemon Drop
, 1
PB & J
, 1
Red Velvet Vixen
( every piece bought, 10 pesos is donated to the Phil Red Cross) and 1
Pistachio Berries n' Cream
.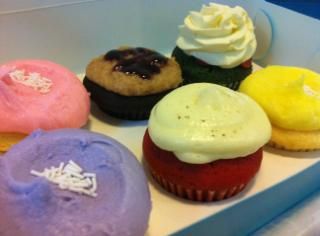 The Vanilla and PB & J were old favorites, the rest were my first time to try.
The Lemon Drop's icing has the texture of a flower icing. The Pistachio Berries n' Cream has a whipped cream topping and the cupcake base is wet from a sweet syrup that seeps out on my every bite. While the Red Velvet has a not too sweet cream cheese icing and a very moist cupcake base.
Happy Eating!