I was out with my family last father's day. And for dinner we agreed at Conti's, since most of them haven't eaten there yet.
We each have our own orders but still took a bite out of each other's plates, in short we got to try every one's orders.
My order of
Chicken ala Kiev P195
is 2 pieces of stuffed chicken with butter and spinach fillings. It is topped with cream sauce and comes with garlic rice and vegetables.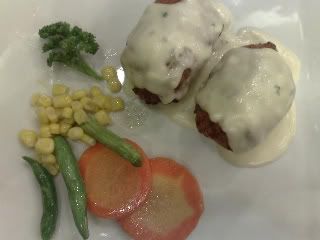 The chicken was soft and tender with the butter oozing out of it in every bite. The rice was perfectly-seasoned as well.
The
Chicken Roulade P180
is another stuffed chicken dish but with cheese fillings. An order comes with mushroom rice risotto.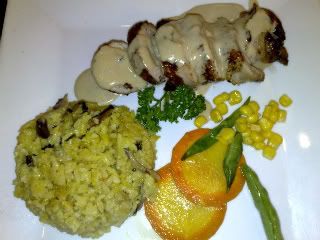 The chicken was also perfectly-cooked, with the mushroom cream sauce adding another layer of flavor to the dish. The risotto rice, although a little drier than most risottos, complemented the chicken roulade's taste.
The
Baked Prawns P295
is 3 pieces of butterflied prawns with melted cheese on top. It comes with crab salad and Japanese fried rice.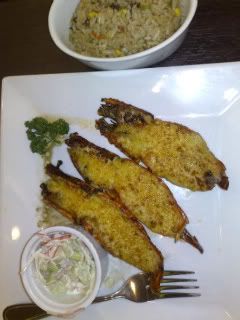 The prawns are buttery, creamy, tart and salty all at the same time. The accompanying crab salad was reminiscent of a coleslaw but with added crab meat. The Japanese fried rice has a strong but flavorful taste.
The
Fish and Chips P195
is served with lemon butter sauce.
The fish were soft and creamy while the fries were just okay.
The
Pastel de Lengua P210
is like a pot pie because it is covered with a pastry dough on top.
It is also different from other lenguas because it is tender and not rubbery. I didn't even have to chew it since it just melted in my mouth. The paella rice was tangy and flavorful from the tomato sauce it was soaked in.
The
Roast Pork Loin P165
tasted like lechon kawali but softer in texture. It comes with vegetables and garlic rice.
And with all the meat we ate, I tried to incorporate a little bit of vegetables in my meal by ordering
Mango Royale Salad P70 (solo)
.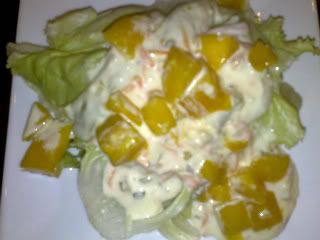 Lettuce leaves topped with mango royale dressing and chunks of mangoes.
It is sweet, tangy, creamy, light and refreshing all at the same time. I love how it tasted and would love to order it again. Btw, their dinner rolls were also good, soft, fluffy and creamy.
For desserts we ordered
Turtle Pie P80/slice and Mango Bravo P85
.
The mango bravo is the cake that made them famous. It is layers of meringue, sponge cake, nuts, chocolate, mangoes and cream, phew! that's a lot.
It is a light and not too sweet dessert.
But what bowled me over and made me order another one to go, was the turtle pie.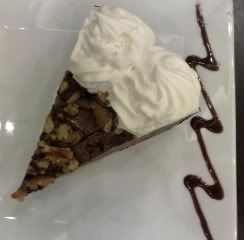 It is layers of cookie crust, chocolate, toffee, toffee cream and chocolate mousse, with nuts and whipped cream on top.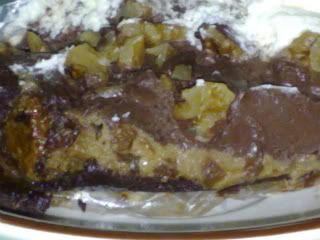 It will satisfy all the true blue chocoholics, with all its layers of flavor and sweetness.
For take home, we bought a small box of
Cream Puff P100/15 pieces
. It is miniature puffs with vanilla and chocolate toppings.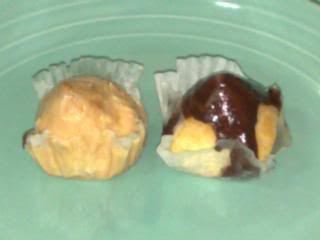 The vanilla and chocolate toppings and also the custard fillings were all good, but the pastry/puff was really dry. It reminded me of the Tee-Up of Monde, but this was drier and harder.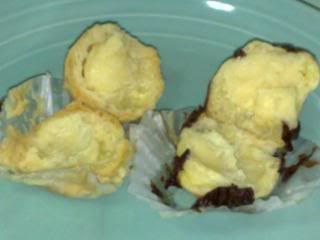 As a proof, the small box we bought was still inside the ref, half-eaten. That's rare in a household of dessert lovers.
Happy Eating!
CONTI'S
P1 Level, Trinoma Edsa
Telephone Nos.: 796-3283/943-1665