The Makati area has been a constant favorite of mine. Aside from the trendy stores and mini parks, there's also a lot of good restaurants and cafes in the vicinity. From those in the mall and more so outside, and one of them is
Malcolm's Place
.
These past few weeks have been a hunt for the best Angus and Wagyu burger. From Chelsea, Myron's, Zuni and now joining in the Wagyu wagon is Malcolm's Place.
I have long wanted to try their Wagyu Burger, it was only heightened by a recent must-try article of Lucy Gomez on the Philippine Star. She wrote Malcolm's Wagyu Burger and Wagyu Wasabi Steak Sandwich as must-try.
Since I was just gonna try one, I asked for the server's recommendation. She recommended the
Wagyu Burger P300
.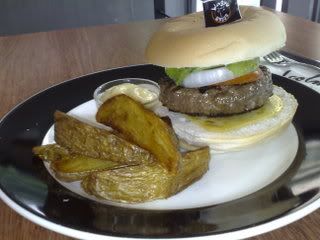 Malcolm's Wagyu Burger is thick grilled wagyu burger patty on top of a bun with vegetables. It is served with thick-cut fries.
The wagyu patty was thick and juicy but not well-seasoned. The bread didn't help either in adding flavor. It's even a little bit dry. And the potatoes were more like sweet potatoes in taste.
But overall, the wagyu burger was good, though still not as good as Myron's. I also noticed when I read their menu online of a special dressing in their burger that wasn't present in mine. I don't know if it has anything to do with the not so good taste of my burger.
After my orders were placed, they served me a plate of
Wanton Chips with Herb Mayonnaise
. It's a good appetizer, the chips were not at all oily and salty but were creamy and a little bit sweet. The herb mayonnaise was sooo good I even used it as a dip for my fries.
And since I always have dessert after every meal, I ordered another recommendation and also a best seller, the
Apple Crumble ala Mode P135
.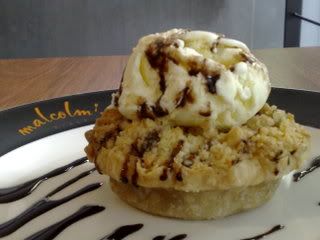 It is an apple pie with crumbled dough instead of a dough cover on top. It was not too sweet, even with the ice cream on top, but nevertheless a filling dessert. The chocolate sauce was reminiscent of a brown cow chocolate syrup in taste. The apple mixture was soft and tender with a strong cinnamon taste.
Overall, I liked the food at Malcolm's Place. Their service was fast and their staff were friendly and attentive. I wouldn't mind coming back but not that soon.
Happy Eating!

Malcolm's Place
108 H.V. dela Costa St.,
Salcedo Village, Makati
Tel No. 840-5881