I have been at Kozui's countless of times but it was only last Father's Day that I was able to eat there with my family.
As usual I raved about how good their
Anmitsu P168
is, so it is just appropriate that we ordered a lot of it. We also ordered the
Karaage Chicken Vegetable Wrap P148
,
Takoyaki P98
,
Whole Baguette of Crisp Chicken Vegetable Sandwich P178
and
Minsed Spinach Soup
.
The minsed spinach soup was very light but also very tasty.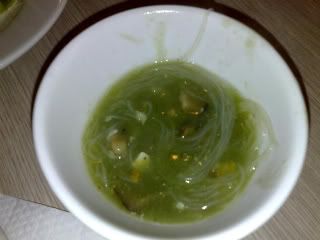 The Karaage Chicken is made up of deep fried breaded boneless chicken, lettuce, tomatoes, cucumber, onions and a dollop of Japanese black sesame dressing wrapped in grilled pita bread.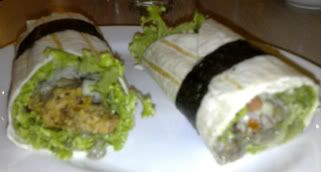 The dressing was really good and also well-seasoned. This is something that you'll want to have over and over and still not be satisfied.
The Whole Baguette of Crisp Chicken Vegetable Sandwich has onions, tomatoes, lettuce, crispy breaded chicken and Japanese black sesame dressing on a baguette.
This sandwich is good but not as good as the karaage chicken.
The Special Takoyaki is made of fresh pan grilled tako balls flavored with generous chunks of ebi, ika and negi (squid, shrimp and Asian leeks), topped with Japanese mayo and sprinkled with nori wrapper & bonito flakes on top. It is served with their special takoyaki sauce.
The Anmitsu is made of shaved ice, topped with green tea jelly, dango balls, sweet azuki beans, taro jam and my favorite, green tea ice cream. The anmitsu has choices of mango, melon, strawberry and taro anmitsu. My fave is and will always be the taro anmitsu.
I can't seem to get enough of it. Its color and taste are both very appealing. Plus their green tea ice cream is really something. It's one of the reasons why their anmitsu is so good. I wonder if they also sell it by the gallon, 'coz I'll definitely buy one.
The anmitsu and the special takoyaki are their best sellers and I think they have every reason to be.
Happy Eating!
KOZUI
258 B. Tomas Morato corner Scout Fernandez,
Quezon City
Tel No: 413-2705
Kozui ha s