Us girls (my mother, sister & I) went to Robinson's Place last week to watch the movie The Happening of Mark Wahlberg. But before that, we had our merienda at
The Old Spaghetti House
.
We all had the same order, the
Golden Crusted Chicken, Ham & Cheese Crepe with Angel Hair Pomodoro P135
from their Pasta Meals selection. I had my pasta changed to
Chicken & Mushroom with Garlic Cream Sauce
for an additional of more or less P70.
The Chicken and Mushroom pasta is just your usual cream sauce pasta but with lots of chicken and mushrooms.
The Chicken, Ham & Cheese Crepe is a crepe with chicken, ham & cheese fillings, that is breaded then fried. It is served with a gravy sauce.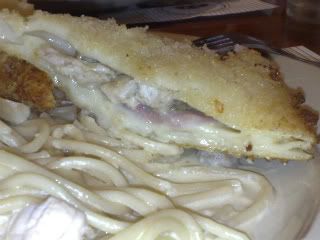 It was perfectly-seasoned and just lightly breaded.
For dessert we had the
Colossal Chocolate Chip Cookie Ala Mode P120
. It is a big and warm chocolate chip cookie on a skillet, serve with a scoop of vanilla ice cream and drizzled with chocolate sauce.
The cookie though bigger than normal cookies was thin, but nevertheless moist and chewy. The chocolate sauce was good too. An order for me, is just good for one.
TOSH food were just okay, nothing extraordinary.
Happy Eating!
THE OLD SPAGHETTI HOUSE (TOSH)
3rd Floor, Midtown Wing, Robinson's Place,
Ermita, Manila