Just last week I have read and watched about their infamous Mango Tart. I can't confined my curiosity for long, good thing I have money to spare and a willing friend to tag along.
The Pacific Lounge is located at the 21st floor of Pan Pacific Manila.
We had a blast looking at the surroundings as we ascend from floor to floor. Though at one point I got the chills =)
It was only when we were seated and given the menu, have I known of its price. The
Mango Tart sells for P325 + vat + service charge
. I was thinking of backing out 'coz I find that to be too expensive for a tart. But my friend said that that's the price we have to pay if we really want to try it. So we did and even ordered a
Pacific Salad P290
to go with it.
While waiting for our orders, we were given 2 types of bread with butter.
The breads were Whole Wheat Poppy Seed and a Soft Bun.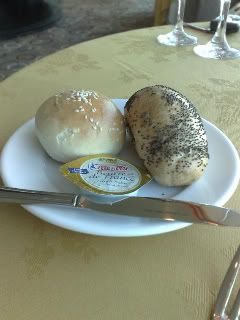 The poppy was messy to eat and was very rubbery. I had a hard time biting thru it.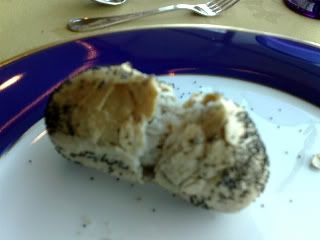 The soft bun on the other hand was creamy and delicious. It was complemented by the sweet and buttery taste of the Elle & Vire French Butter. Such a perfect combination. The butter was really good. I hope to find one outside to buy.
Then came the Pacific Salad. Lettuce leaves with tomatoes, pomelo and candied walnuts, drizzled with a honey balsamic vinaigrette and topped with herb bread stick.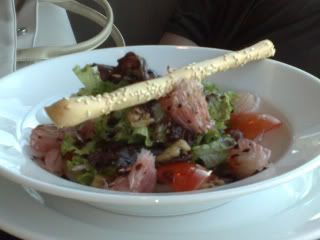 Eventhough it was good, its size was too little/few for its price. You can have so much more salad with that amount.
Next and last to come was the Mango Tart. It 's made of crusty phyllo dough with cream and caramel and topped with fresh mango slices.
The tart was refreshing and light. You can eat a lot of it and still not feel full.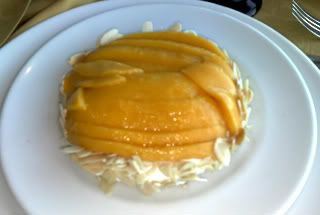 It has just the right level of sweetness, crunchiness and creaminess. All ingredients complemented each other well. Even if it's bigger than usual tarts, I personally think it's only good for one person, especially to dessert lovers.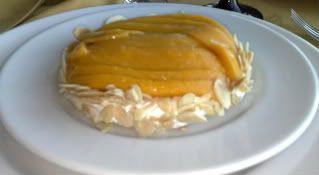 And since we also paid for the ambiance. We enjoyed savoring every minute of it.
It was soooooooo good up there. The view can really calm you down, especially of the Manila Bay area, and the clouds looked uniformedly-fluffy. It's just sad that we were not able to see the sun set and the view of the Manila skyline at night, which the staff said were a sight to behold. Well, maybe next time.
Happy Eating!
PACIFIC LOUNGE
Pan Pacific Manila
M. Adriatico cor. Malvar Sts.
Malate, Manila
Telephone No: 536-0788