They were having a culinary affair/show at the Activity Center of Glorietta, when I came across their booth.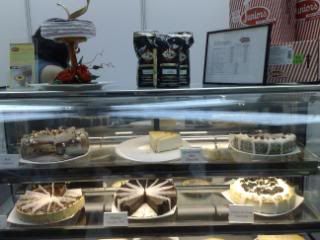 I have sampled and liked their assorted cheesecakes/cheesecake sampler sold at the Robinsons Supermarket. So when I saw them selling other cake flavors by the slice, I immediately bought a couple to try. I didn't eat it right away 'coz I was busy scouring the mall for sales. So when it was time to eat it, it sort of melted and disintegrated. It may looked unappetizing but it's the exact opposite of it in taste.
I bought the
Skyscraper Chocolate Fudge Layer Cake P180
and the
Chocolate Pecan Tart P130
.
The Skyscraper is for the true blue chocoholics. It is made of layers of moist chocolate cake, chocolate ganache and chocolate fudge icing. With layers of chocolate on chocolate on chocolate, what more can you ask for?
The chocolate cake was moist while the chocolate ganache tasted like pure chocolate bar infused with liqueur. And did I say it's huge?
The Chocolate Pecan Tart is made with short crust shell, filled with pecans, brownie pieces and chocolate chips.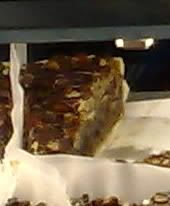 It is best for people who like nuts and chocolates, like I do, because it has both.
There's pecan in your every bite, and the crust is so creamy, it'll melt in your mouth.
Happy Eating!
FYI: Junior's Cakes are already available in the Phils thru CULINARY BEST SOURCE INC at 9729 Kamagong St., San Antonio Village, Makati City with Tel No. 738-1979 or 899-5012. They can also be reached at their multiply site.