After watching The Dark Knight at IMAX, it's time for a snack.
Within the vicinity is UCC Cafe Terrace. When it was time to order, I was torn between the Chocolate Crepe and the Chocolate French Toast, which are both their best sellers. To save myself the stress, I let the server decide.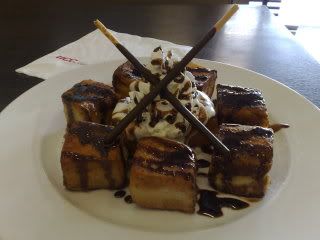 The
Chocolate French Toast P199
is 9 pieces of cubed Japanese white bread dipped in custard then fried. It is topped with chocolate sauce, whipped cream and pocky sticks.
It's a good french toast but would have liked it more if it's not only dipped in custard but also filled with it. A scoop of ice cream and nuts would also help.
Btw, it's reminiscent of the Stack of Beignets I had at Cafe Provencal in taste.
Happy Eating!
UCC CAFE TERRACE
SM Mall of Asia