Before watching Lea Salonga's Cinderella play at the CCP, we (my friend mike & I) had an early dinner at Uno Pizzeria in San Mig by the Bay in MOA.
I was very excited to try their pizzas since I have just read a great review of the resto and their pizzas in one of the popular food blogging sites that I often visit.
We ordered
half Ruby Ribs and half West Side Shrimp Pesto Pizza P328
, which according to the site and also the server are the best and also their best sellers.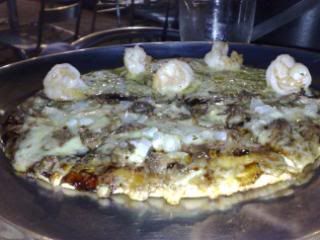 For that price I was expecting something bigger than the regular size of Greenwich pizza, but what came was something a little bit smaller and thinner.
Next was the taste test. The Ruby Ribs pizza was sweet, just that sweet but not good. The West Side Shrimp Pesto was bitter, so I didn't even continue eating my slice, although the shrimps were perfectly cooked. The crust was dry and tasted stale.
We both agreed that Lotsa Pizza and 3M serve far more better tasting pizzas than they do. They're also ambitious with their price, it's in the same range as California Pizza Kitchen, but with below than Lotsa Pizza in taste.
We also ordered the
Grilled Chicken Salad Wrap P188
and the
Chips and Salsa P148
.
The Grilled Chicken Wrap is chicken, bacon, lettuce, tomatoes and onions wrapped in tortilla bread and serve with thousand island sauce.
This was better than their pizzas, although scrimping in ingredients.
The Chips and Salsa is served with 2 dips. The salsa was spicy and good, while the other dip is a cross between cheez whiz and evaporated milk, but also good.
At first the chips tasted like soap, but when cooled it was okay.
Overall, we were disappointed with the taste of the food. We were expecting something more with that price range and the good review.
I can say that that's one of the worst food I have ever had in my entire life. I don't think I'll ever come back to try their other dishes. We should have eaten at Pizza Hut, Shakey's or Don Hen instead. Good thing we were going to watch something good or else we'll really be bummed.
Happy Eating!